Sensual by Nature Studio is an elite, private Sensual Tantric Healing Sanctuary in NYC dedicated to creating experiences of Peace and Sensuality for Individuals, Couples and Groups. In Studio & Virtual Sessions under the guidance of a youthful, loving Tantra Goddess Oceana. 

Hello, I am Oceana . . . a Tantric Sensual Goddess of Love, a Dakini and Muse gifted and skilled in the Arts of Sensual Tantric Healing, Somatic Touch, Calming Breath, Sacred Karezza, Reiki Mastery, and Talk Counseling. I offer Joyful Sensual Transcendence Experiences, Guided Tantra Technique, Deep, Soul Healing, and Infinite Unconditional Love. Your Sessions are uniquely created for your Growth, Vital Health and Beautiful Living Experience. I welcome you to browse my offerings and follow your intuitive guidance to feel how Tantra can change and supplement your life and how I can be your chosen guide and inspiration. 
"Live Wholly, Love Deeply, Laugh Often" xo Dakini Oceana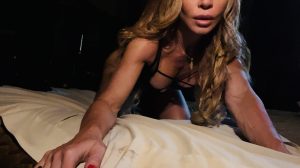 Do you want to feel more passion? Feel abundant but want to feel zen as you walk through your busy world?
Do you have an innate wish for security coupled by a desire to explore realms of fantasy, surprise, spontaneity, and mystery ? 
Seek explore and even heal your sensual self to enhance your outside relationships?
Feel routine, technology, travel and 'to do'  lists exhausted? Need healing, reset, rejuvenation? 
❤️ In a cherry. . .  I offer Sensual Tantric Awakening in a beautiful. upscale, private, and clean sanctuary. In just one session, I will help you get free, slow down time, allow your natural energy power to vitalize, and you will return to the world at peace and full energy. In my ongoing care you become the tour de force you know you can be, and as you move through your beautiful world, be that strength for the others to light their candles in, too. Join me on the Tantric Path. .  . xo