Read Oceana's Book: Tantric Spirituality & Practices
Sensual by NatureTM: Tantric Spirituality & Practices
with Dakini Oceana.
The Book can be purchased at Amazon. I offer softcover for those who like to hold the book, and pages. I offer Kindle format for those who are on the go and also seek privacy. I love to hear from you as you read~ send an email! I love to receive reviews on Amazon page so we can reach others seeking the Sensual by Nature Tantra way of life. . .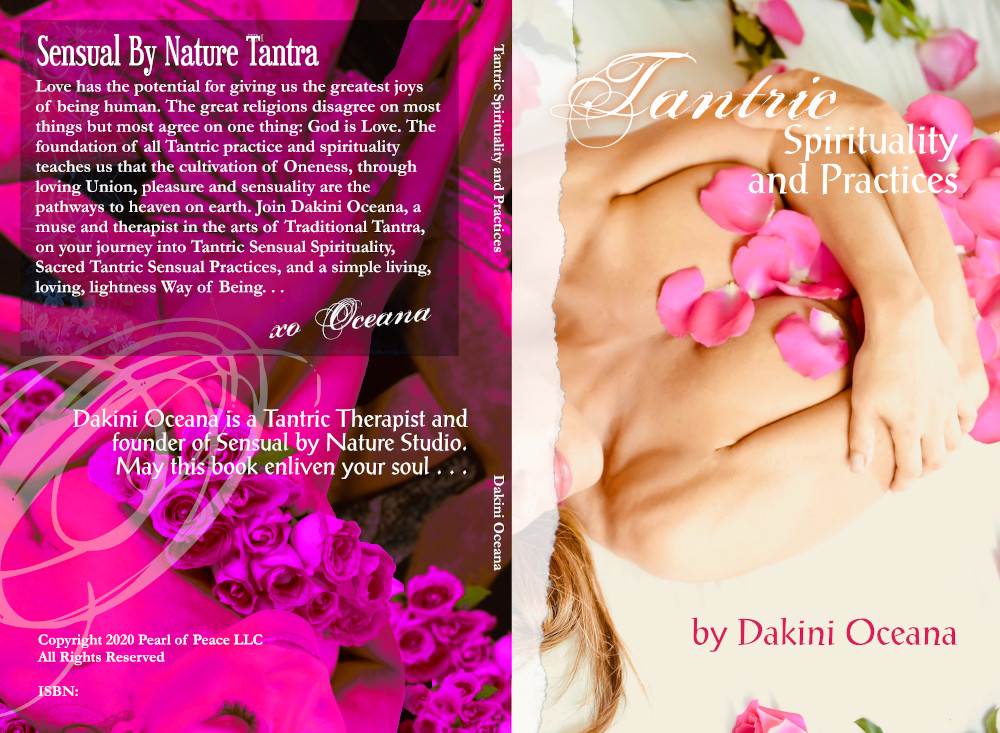 To you. . .
Hello, loves,
I created this book for all Sensual by Nature Tantra seekers as inspiration along your Tantric path. You will learn what we discuss in the book through our in-studio private and group workshop sessions through experience and talks, so reading while working with me as your guide is a beautiful combination for healing and awakening. If you aren't able to come into studio, or meet with me virtually, of course you can gain much insight on your Tantric Journey, by reading the book and doing the practices at home, on your own, as well. I've also added some really artful, soothing, sensual photos inside . . .for your health and growth.
"Tantric Spirituality & Practices" with Dakini Oceana offers spiritual principles on developing a holistic Tantric perspective, and Tantric way of life. I also offer you very sweet practices for learning more about Tantric sensual touch, Tantric massage, Tantric Self Pleasure Rituals, and Sacred Karezza lovemaking positions. My spiritual talks and sensual guidance may enlighten your life in every way, healing sexual shame, and thus emerging from your core a deep reverence for the celebration of Sensual Living, a Loving Oneness with all Living Beings, and a radiant joy from your core that illuminates and revitalizes you and all you touch and see. . .
"Live wholly love deeply laugh often. . ."
xo Dakini
Tantra Spirituality & Practices Intro
Tantra is a form of yoga that offers a philosophy and practices showing how to generate, enhance and consciously direct life force energy that can awaken, arouse, enlighten, and heal the self and others. Primarily, Tantra is a path of the heart and a path of pleasure. Tantra literally means weaving together the polarities of the male and female forces. The path of the 23 is non-dualistic, meaning there is no separation of the physical/material world and the spiritual realm. Everything perceived is a manifestation of the "one" divine source. The body and its masculine or feminine sexual nature is not a source of original sin, guilt, and shame. The Tantrika looks into the eyes of the beloved and sees the divine.
"Eroticism always entails a breaking down of established patterns, the patterns, I repeat, of the regulated social order basic to our discontinuous mode of existence as defined and separated individuals,"
Bataille
What you will find inside. . .
1. What is a Dakini?
2. Why Tantra? The Religion of the Body.
3. Acceptance, Serenity
4. Healing Love, Touch
5. Reverence, Your Body
6. Pure Source; Absolute Love. . .
7. Sexo-Sensual Essence
8. Soul Evolution
9. Chakra Cleansing, Balancing
10. Erotic Fantasy. . .
11. The Observer is the Observed: Mirror of Relationship
12. Sacred Tantric Artful Healing and Lovemaking
13. Tantric Sacred Rituals and Practices. . .
Appendix
Sacred Self-Pleasure
1. Sacred Heart Radiance, opens your heart center, connects genitals
2. PC Pump, builds your internal erotic fire sensations
3. Sacred Tantric Self-Pleasure Ritual,
4. circulate orgasmic energy throughout your body.
The Artform of Sacred Karezza
1. The Karezza Dance
Orgasmic Lovemaking with Partner
1. Mysterious Clitoris Uncovered
2. Giving Sensual Massage to Your Shakti
3. Clitoral Alignment with Lingham
Exploring Erotic Fantasy and Boundaries with Partner
1. Role Play, BDSM and Boundassage
14. Tantric Spirituality, Closing
"In the vibrating blur the soul sees its true correspondence and from this ephemeral silence of the soul speaks a word. The word is love. There is a moment when you are a blank slate. It's like a high as you are deciding what is next. Past lives and the space between"
~ xo Dakini